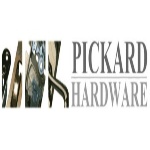 Open Now!
Monday to Sunday
9am - 5:30pm
Open on public holidays
About us
Pickard Hardware
Since John Pickard established the company in 1982, Pickard Hardware has grown to be one of the countries leading distributors of specialised hardware products. Pickard's have come along way since our humble beginnings in an old derelict mill near the town centre of Keighley in West Yorkshire. On the turn of the century we bought a piece of land and built a purpose made luxury warehouse situated on the A650, Keighley's link to the rest of the country.


About Us
At Pickard Hardware we strive to keep up to date with the trades ever changing needs and in the past have been pioneers in the distribution of many products which at the time had only been utilised in the PVCu market and on the continent. One of our main strengths is our ability to supply and simplify with a competent product knowledge, hardware which in the past has almost been unattainable and this along with our ever improving customer satisfaction record has led to national and in a few cases worldwide recognition as being the place to call for all your joinery needs.


Other Services
Free Parking
Buy Online
Delivery Service
Payment Methods
Cash, Cheque, MasterCard, Maestro, Visa, PayPal
Trading Since
Waste of Time and Money
Bought door furnture and ordered o/o stock letter plate. Promised delivery but failed 3x. chased up & lied to with further promises. Failed to return calls and resorted to collecting item. Tried to be fobbed off with wrong item. Still waiting for refund. Too much of a waste of precious time to deal with this company. My busines has gone elsewhere.
John Markham - 17/06/2010
Non existant customer service - rude.
I contacted this company 3 times, and received read receipts for the e-mails every time. Despite this, and threatrening to contact the director, they still didn't give a toss as still did not respond. Once I obtained the directors name from the internet I contacted him by post - and guesss what? Even he did not have the courtesy to respond. Thankfully, I found out how poor their servcie was before I ordered from them - heaven knows what they would be like if you ever had a problem with anything you had purchased from them. USE AT YOUR OWN PERIL.
Bobs Mate - 06/08/2009
Rubbish!!!
I bought some ironmongery from here - it all fell apart alomst immediately and this company did not want to know. Would rather eat my own sick than spend a further cent with them.
tom reynolds - 06/08/2009
Want to display these reviews on your own site?
Leave your review of Pickard Hardware